DAY 1: FRIDAY, JULY 21st, 2023
7:30 AM Exhibit Hall Open
8:00 AM to 8:40 AM
Topic:
Prevalence of OSA among former NFL Players and the NFLPA Sleep Health Treatment Program
Presenters:

Arthur Roberts, M.D., David Gergen, CBT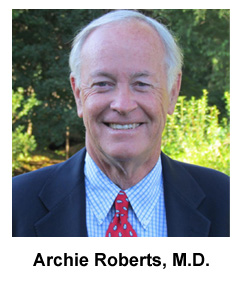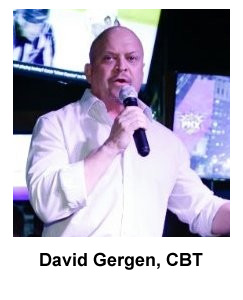 When Arthur "Archie" Roberts, M.D. got involved with the medical side of the National Football League back in 2005, it was a natural collaboration. As an accomplished ex quarterback and baseball player (short stop), Roberts knew the rigors of high-level athletics and wanted to improve the health of athletes.
Roberts now runs a cardiovascular research program for the NFLPA through an entity called the Living Heart Foundation (LHF). At the upcoming American Sleep & Breathing Academy (ASBA) Conference, Roberts will share LHF's recently collected sleep medicine data and new plans for the coming year. "We can take this to the world and they can learn and doctors can learn," says Roberts, who attended medical school while a member of the Cleveland Browns and Miami Dolphins. "People who read literature can learn about sleep apnea. Their heroes on the grid-iron have a high prevalence of sleep apnea. Fortunately these players are now being treated.
We're going to follow up in the coming year with another study showing the objective degree of improvement they have after treatment with oral appliances and CPAP." With the help of Andre Collins (executive director of the Professional Athletes' Foundation [PAF] at the NFLPA) and Dave Gergen, NFL players have embraced the need to be tested for sleep apnea, and be treated if necessary. "We brought the players together in hospitals all around the country, and when you do that for over 15 years, you build up a lot of relationships and friendships," Roberts enthuses. "The players now are very tuned in to sleep apnea, and how it can affect their lives in terms of cardiovascular, pulmonary, and other problems. Dave and Andre did a great job in promoting the LHF screening program, which includes sleep apnea testing and treatment."
David Gergen is a pioneer in the field of dental sleep medicine. He was involved from the very beginning with insurance reimbursement and later Medicare reimbursement for dental appliances. In 1984 David Gergen he designed the "Orthopedic Corrector" AKA the D.N.A Vivo appliance. In 1986 Gergen gave us the Original Snoring Guard and Shorty after 1991 Followed it up with the Removal Acrylic Herbst. Now after 40 years at the Bench David Gergen has another new sleep appliance "The Glide"
Gergen is credited on the patents of many of the first sleep apnea appliances, including the Sleepinator, the Original Snore Guard, the Orthopedic Corrector for Sleep and the Serrano Sleeper for Pediatric Sleep.
8:40 AM to 9:40 AM
Topic: Cardiovascular Consequences of Untreated Sleep Apnea
Presenter: Virend Somers M.D., Ph.D.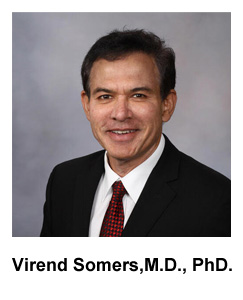 Dr. Somers directs the Cardiovascular Facility and the Sleep Facility within Mayo Clinic's Center for Clinical and Translational Science in Rochester MN. His team's research focuses on the role of the autonomic nervous system in cardiovascular regulation in humans, with an emphasis on normal and disordered sleep. The team is also involved in studies of vascular biology in humans, examining how changes in neural mechanisms may influence the local control of blood vessels.
Extensive collaborative interactions within and outside Mayo Clinic are fundamental to the successful evolution of Dr. Somers' research program. Current collaborations include studies with investigators at the University of Iowa and the University of Cincinnati and joint projects with academic medical centers in Italy, Poland, the Czech Republic, Germany and Belgium.
One of Dr. Somers main areas of focus are the neural, vascular and genetic mechanisms linking sleep disorders to cardiovascular disease. Studies in this area of focus explore the interactions between sleep apnea and cardiovascular function, with special attention paid to mechanisms by which sleep apnea may worsen heart failure. Dr. Somers' team is also addressing the potential mechanisms by which changes in neural and vascular function may contribute to the circadian pattern of cardiovascular events.
Dr. Somers' research program utilizes an integrated physiologic approach to studying cardiovascular function, seeking to examine questions with relevance to cardiovascular disease. An emphasis is placed on applying new developments in basic biology to studies in humans.
9:30 AM to 10:30 AM
Topic:

Dental and Medical Collaboration in the Treatment of Sleep Apnea
Presenter: Rudi M. Ferrate, M.D., FAASM
Dr. Rudi Ferrate is a Board Certified Sleep Physician in private practice in Glendale, AZ. Besides his expertise in Family Medicine he has been diagnosing and treating patients with sleep disorders, medical weight loss as well as preventative medicine with an emphasis or hormones and nutrition. Dr. Ferrate is also boarded in Family Medicine, non surgical Bariatric Medicine.
From the very beginning of his medical career has nurtured his passion to find the best, most specific yet natural treatments in the field of Wellness, rejuvenation, sleep disorders and weight loss. He is an active member of various academies and holds medical licenses in multiple states as well as outside of the US. In the sleep medicine field his purpose is to collaborate with the best in the field to define the future of sleep disorders treatment and performance where dentists and physicians will work together using all available therapies as well as develop innovative protocols, tools and medical devices for sleep disorders performance where dentists and physicians will work together using all available therapies as well as develop innovative protocols, tools and medical devices for sleep disorders.
10:30 AM to 11:00 AM
Break and Exhibits
11:00 AM to 12:30 PM
Topic: The Relationship Between Sleep, TMD, and Upper Cervical Alignment
Presenters: Maryam Motlagh DDS, Jon Caulfield, DDS, Dr. Randy James DC, BCAO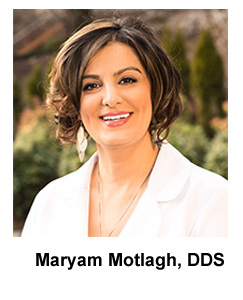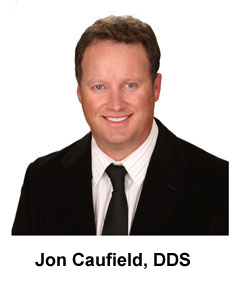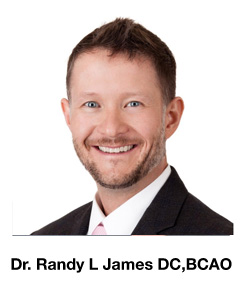 Dr. Maryam Motlagh has dedicated her professional life to helping patients improve, not only their smiles but their overall health.  After graduating with honors from Oregon Health Sciences University School of Dentistry, Dr. Motlagh sought extensive postdoctoral training in occlusion, sleep dentistry and complex restorative dentistry at the Academy of Cosmetic Dentistry, Spear Institute, Las Vegas Institute for Advanced Dental Studies, the International College of Craniomandibular Orthopedics (ICCMO), and the Epigenetic Orthodontic Program taught by Dr. Dave Singh DMD, PhD., is an advanced diplomate with the American Sleep and Breathing Academy, as well as an instructor for diplomate review courses.
During her time as a Fellow of ICCMO, Dr. Motlagh developed Myoaligner®; a patented TMD treatment protocol that is compatible with Dental Sleep Apnea devices. Myoaligner® supports the optimal position of the jaw during the day, which quickly alleviates TMJ related symptoms during daytime function.  Dr. Motlagh enjoys collaborating with her colleagues through presentations at study clubs and dental seminars while practicing TMJ and Sleep dentistry in Portland Oregon.
Dr. Jon W. Caulfield owns and operates Epic Dentistry in Littleton, Colorado where he takes an integrated, whole health approach to dentistry, specializing in the areas of Sleep, Airway and TMJ. He has been fortunate to work alongside world leaders in neuromuscular occlusion and pneumopedics and is now paying it forward, teaching hundreds of dentists worldwide how to integrate solutions for sleep, airway and TMJ into their practices. Dr. Caulfield is an instructor at the Institute for Craniofacial Sleep Medicine and leads the Clinical Advisory and Advocate Program at Vivos Therapeutics. A graduate of University of Minnesota School of Dentistry, Dr. Caulfield also holds an advanced graduate degree with Occlusion Connections and a diplomate status with the American Sleep and Breathing Academy.
Dr. Randy James received his graduate training at Palmer Iowa and his post doctorate board certification from Sherman College in South Carolina.  He is affiliated with the Sweat Institute for Orthogonal Chiropractic in Atlanta, Georgia and the Advanced Orthogonal Institute in St. Petersburg, Florida.
In addition to speaking engagements, he practices full time, with offices located in both Littleton and Denver, Colorado and is the founder of the Denver Headache and spine Center P.C.
12:30 PM to 1:45 PM
Lunch
1:45 PM to 2:45 PM
Topic: Preventing Oral Appliance Therapy Side Effects; And Treating Them if they Occur
Presenter: John Carollo, DMD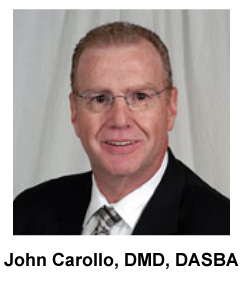 Dr. John Carollo received his dental degree from the University of Medicine and Dentistry of New Jersey, (now Rutgers Dental School), and is a Member of the Academy of General Dentistry, The American Dental Association, The Academy of Dental Sleep Medicine and a Diplomate in The American Sleep Breathing Academy.
He has presented extensively on the subjects of Dental Sleep Medicine, Fabricating Dental Sleep Appliances Over Orthodontic Retainers, Avoiding Complications and Pitfalls in Implant Dentistry from Single Teeth to Full Mouth Restorations, All-on-4™ Lecture and Hands-On, Contemporary Implant Esthetics, Anterior Esthetics for Implants and Natural Teeth, All-Ceramic Restorations, Dental Digital Dentistry & Photography and Treatment Planning for Dental Implant Cases.
He has authored articles on the Dental Sleep Medicine, the NobelProcera System; the All-Ceram Bridges, Digital Photography, Computerized Shade Mapping & Laboratory Communication. Dr. Carollo teaches hands-on programs in: All-on-4™, Dental Digital Photography, Airway Titration for Dental Oral Sleep Appliances, Effective Case Presentations, Laboratory Communication, Patient Education, Treatment Planning, Increasing Case Acceptance and Contemporary Implant Perspectives
. 
2:45 PM to 3:45 PM
Topic: Sleep Disorders and Brain Health
Presenter: Joyce K. Lee-Iannotti, M.D.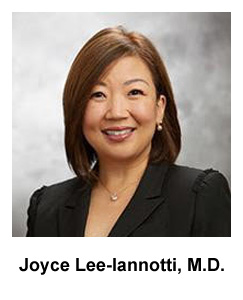 Dr. Lee-Iannotti is the Director of the Sleep Disorders Center at Banner University Medical Center and the program director of the sleep medicine fellowship program. She is also a Clinical Associate Professor of Neurology at the University of Arizona College of Medicine-Phoenix.
Dr. Lee-Iannotti is a principal investigator and co-PI of several clinical trials involving REM sleep behavior disorder, stroke and sleep apnea, nerve stimulation therapies for sleep apnea, and post-acute sequelae of SARS-CoV-2. Other research interests include health disparities within sleep medicine and central hypersomnia syndromes.
In addition to her clinical work, Dr. Lee-Iannotti is also involved in sleep medicine research and has published several research papers on various sleep-related topics. She has also delivered numerous presentations on sleep medicine at medical conferences and seminars.
As a dedicated educator, Dr. Lee-Iannotti joined the AASM Foundation Board of Directors in June 2022. Within AASM, she was elected to serve on the Sleep Medicine Fellowship Directors Council Steering Committee and participates in multiple committees, including the Insomnia Task Force. She serves as the Vice-Chair of the Sleep Section of the American Academy of Neurology. She is also on the Membership Committee for the Sleep Research Society
3:45 PM to 4:15 PM
Break and Exhibits
4:15 PM to 5:00 PM
Topic:  Identification of Craniofacial Deficiencies in Children
Presenter: Toshi Hart, DDS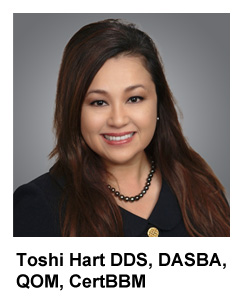 Dr. Toshi Hart is a graduate of the Arthur A. Dugoni University of the Pacific School of Dentistry, San Francisco and completed a General Practice Residency at the VA Hospital, Palo Alto, with rotations Stanford Hospital. She was Dental Director of a Public Health Clinic and a Department of Health and Human Services National Health Service Corps Student Loan Repayment Recipient in Healdsburg, California. She maintains privileges at Kaiser Hospital in Modesto, California and has been in practice for over 30 years previously limited to children now focused on Laser, Airway, and Dental Sleep Medicine.
Dr. Toshi Hart is a Clinical Advisor for Vivos Therapeutics and is a featured presenter. In 2021, she published Use of a Novel Intraoral Device to Promote Nasal Breathing Reduces Risk of Tooth Decay in Children. Dr. Hart is a Diplomate with the American Sleep and Breathing Academy, certified Academy of Laser Dentist, a Breathe Institute Ambassador, Tethered Oral Tissues trained, a Qualified Oral Myofunctional Dentist and Certified in the Buteyko Breathing. In addition, she is a KOL for Convergent Dental Solea Laser and Candid Clear Aligners.
As a trusted provider in the community, she works with a network of physicians to integrate medicine and dentistry in a medical model for Obstructive Sleep Apnea treatment in adults and early intervention treatment for children. She is passionate about her goals; to help a generation of children grow up to be free of decay with proper growth and development to become healthy adults.
.
5:00 PM to 5:45 PM
Topic:  TRANSFORM DENTAL SLEEP: IT STARTS WITH YOU
Presenter: Jason Tierney

For nearly 20 years, Jason Tierney has contributed to the fields of Dental Sleep Medicine and TMD treatment. From co-developing widely used oral appliances and countless continuing education events to growing and building teams with a mix of innovative solutions and best practices, Jason has seen the field of sleep become what it is today.
He's seen so much that he actually wrote the book on it. Literally. His new book is entitled:
TRANSFORM DENTAL SLEEP
The Step-by-Step Guide to Doubling Your Sleep Patients, Increasing Physician Referrals, Simplifying Processes, and Improving Your Life
Jason has worked side-by-side with industry experts, clinical gurus, and thousands of dental teams. He marries these varied experiences with his voracious appetite for knowledge, acerbic wit, and keen insights to shine a light on the many pitfalls, scams, and obstacles that dentists face. He also provides easy-to-use, highly effective tips to increase case acceptance, improve team dynamics, and get your kids to do their chores. Lastly, Jason provides an actionable business framework to help dental practices improve team alignment, streamline processes, boost physician referrals, and realize more life satisfaction.
Whether you're just getting started in DSM, you've hit a sleep plateau, or you're seeking practical techniques to become a member of the illustrious 100 Club, Transforming Dental Sleep with Jason is like self-help for your DSM practice. He was also on Wheel of Fortune and loves pugs.
"Jason is on a mission, telling a story that every dental sleep medicine provider must hear. Tierney's clever wit & keen intellect take readers on a fast paced, easy to digest journey from "what is wrong" to "how to transform it – and yourself." – Mark Murphy, DDS
"There is no need to reinvent the wheel. This book IS the wheel." – Stacy Ochoa, DDS
"Jason has a unique gift of being able to tell a story in a way that you feel that you are sitting right there in the room with him and in a no BS, succinct way. His years in the DSM business give him the credibility that all but screams that this should be your next read. He's seen what works and what doesn't." – Steven Bender, DDS
DAY 2: SATURDAY, JULY 22nd, 2023
7:30 AM Exhibit Hall Open
8:00 AM to 9:00 AM
Topic: Training the Next Generation of Dental Clinicians: A Unique Model for Interprofessional Dental College Dental Sleep Medicine Education.
Presenter: John C. Comisi, DDS, MAGD – Associate Professor Medical University of South Carolina, James B. Edwards College of Dental Medicine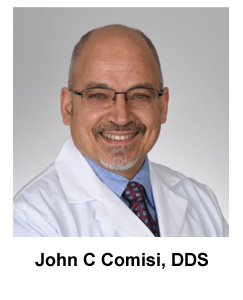 Dr. Comisi practiced general dentistry successfully in Ithaca, NY for 35 years before relocating to Charleston, South Carolina in August 2017 to join the faculty at the Medical University of South Carolina James B. Edwards College of Dental Medicine where he is an Associate Professor. He is the Course Director for the College's Operative II (adhesive and esthetic dentistry) Course, Chair of the Oral Rehabilitation Department's Dental Materials Committee, Course Director of the newly created Dental Sleep Medicine Elective, the first of its kind interdisciplinary course at MUSC and past Infection Control Officer for the College. Dr. Comisi is currently the President of the South Carolina Dental Association.
Dr. Comisi is an Emeritus Member and Master of the Academy of General Dentistry, and holds Fellowships in the Academy of Dentistry International, the American College of Dentists, the Pierre Fauchard Academy, and the International College of Dentists
9:00 AM to 10:00 AM
Topic: Non-CPAP Alternatives in the Treatment of Sleep Disorders
Presenter: Sairam Parthasarathy M.D.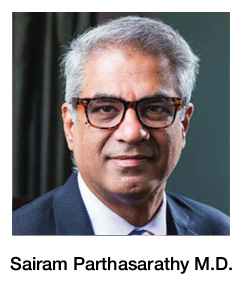 Sairam Parthasarathy, MD is Professor of Medicine, Chief, Division of Pulmonary, Allergy, Critical Care and Sleep Medicine, Director for the UAHS Center of Sleep & Circadian Science, and Medical Director for the Center for Sleep Disorders at the University of Arizona.
Dr. Parthasarathy is a Past President of the Sleep Research Society Foundation and is currently serving as an Associate Editor for the Journal of Clinical Sleep Medicine, Sleep & Vigilance, and Frontiers of Neurology and as an editorial board member of the American Journal of Respiratory and Critical Care Medicine.
His current research is supported by the NIH/NHLBI, PCORI, American Academy of Sleep Medicine Foundation and industry funding. His research focuses on sleep and breathing in both ambulatory patients with sleep disorders, critically ill patients, and survivors of critical illness. Specifically, his current PCORI-funded initiative is addressing peer-driven intervention for promotion of CPAP adherence. His NIH-funded research investigates the role of community engagement to address COVID-related health disparities and a NIH-funded training program for underrepresented minorities in lung and sleep apnea research. Additionally, he is principal investigator for the Arizona RECOVER Cohort that aims to study the longterm consequences of SARS-CoV-2 infection.
10:00 AM to 10:30 AM
Break and Exhibits
12:30 PM to 1:45 PM
Lunch
4:00 PM to 4:30 PM
Break and Exhibits