DAY 1:  FRIDAY, APRIL 12, 2019
8:30 AM Exhibit Hall Open
9:00 AM to 9:55 AM
Topic: Lobbying and Building a Superhighway direct to Capitol Hill Public Officials – The Insurance Case for Oral Appliance Therapy: Learn about all the ways that the Federal Government is involved with sleep disorders and how ASBA members can educate Congress and the Federal Agencies about the benefits of oral appliance therapy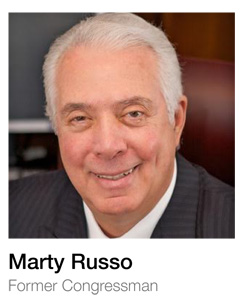 Presenter: Former Congressman Marty Russo
Marty Russo is a noted speaker on how to have more influence in Washington, in business, and in life. Using dynamic story telling and listing useful tips, former Congressman Russo is a energetic speaker on having more influence. You will leave with the leadership knowledge and action oriented tips you need to make a difference.
10:00 AM to 11:00 AM
Topic: Working with Physicians and Scope of Practice in Dental Sleep Medicine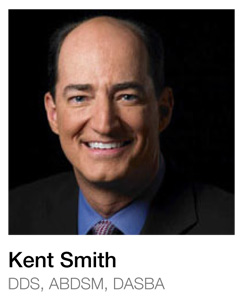 Presenter: Dr. Kent Smith DDS
Dr. Smith is a Diplomate of both the American Sleep and Breathing Academy and the American Board of Dental Sleep Medicine and is on the Advisory Committee of the Australasian Academy of Dental Sleep Medicine. In 2007, he was asked to start a sleep curriculum at the Las Vegas Institute of Advanced Clinical Studies. In 2011, he started the SKISH Initiative ("School Kids in Safe Hands"), to keep bus drivers and students safe on the roads. In 2012, he was the first in Texas to be awarded a Dental Sleep Medicine Facility Accreditation and is the creator of the "Best Sleep Hygiene" app. He is current President of the ASBA.
11:00 AM – 11:30 AM
Coffee/Tea Break and Exhibits
11:30 AM to 1:00 PM
Topic: Uncomplicate Business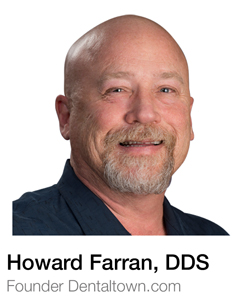 Presenter: Howard Farran, DDS, MBA
Howard Farran, DDS, MBA, the founder and owner of Dentaltown.com and Dentaltown magazine, has practiced dentistry at Today's Dental in the Phoenix metro area for more than 30 years. In 2017, Incisal Edge magazine ranked him among the 32 most influential people in dentistry.
Dr. Farran has lectured internationally on the business of dentistry since 1990, captivating audiences with his blunt, humorous and practical insights into the industry's most controversial subjects. His genuine passion for helping dentists provide faster, easier, higher-quality and lower-cost dentistry to their patients is what drives him to this day.
In 1999, Dr. Farran released the timeless "Your 30-Day Dental MBA" series, which is available on YouTube and iTunes. Since then, he has released massive amounts of distinguished content, including:
His monthly "Howard Speaks" column in Dentaltown magazine,
The 11-part online CE course "The Virtues of Profitable Dentistry,"
And his world-renowned podcast series Dentistry Uncensored with Howard Farran, which has released more than 1,000 episodes and has been downloaded more than 5 million times. Dentistry Uncensored's guests include dental professionals from around the world, including top-tier specialists, dentists fresh out of school, CEOs of the world's largest dental companies, and experts in marketing, finance, practice management and more.
Dr. Farran reaches hundreds of thousands of dentists from around the world every day. His ever-expanding presence across social media platforms include 300,000 Facebook followers, 25,000 Twitter followers and 35,000 LinkedIn followers, not to mention the 250,000 registered members on Dentaltown.com
1:00 PM – 2:00 PM
Lunch
2:00 PM to 3:00 PM
Topic: Scope of Practice in Dental Sleep Medicine
A lecture unlike any that you have attended. Dr. Berley is actually encouraging your participation. Dr. Berley will briefly discuss difficult dental-legal subjects and you will get the opportunity to ask those questions that are driving you crazy. Come with your questions ready.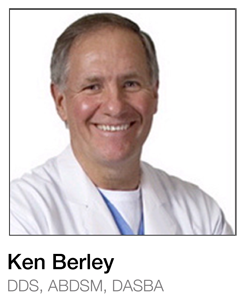 Presenter: Ken Berley, DDS, JD, DABDSM
Ken Berley, DDS, JD, DABDSM, has practiced general, implant and cosmetic dentistry for over 35 years. A concern and passion for the patient's well being combined with his dental experience, led Dr. Berley to complete extensive training in the field of dental sleep medicine to ensure the effective and appropriate treatment of patients suffering from obstructive sleep apnea. Dr. Berley has gained recognition among physicians, dentists, and patients for his ability to effectively treat an manage patients with mild to severe obstructive sleep apnea using oral appliance therapy. Dr. Berley is also an attorney and with his knowledge and experience he teaches other dentists across the nation how to effectively treat patients with obstructive sleep apnea
3:00 PM to 4:00 PM
Topic: When Patients Come Back – Educational Seminar Addresses Simple Steps to Address Pain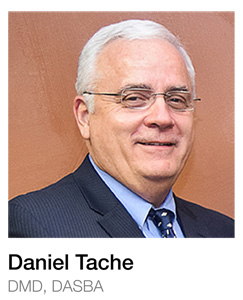 Presenter: Dr. Dan Tache DMD
Dr. Taché is a graduate of Tufts University School of Dental Medicine. After graduating from dental school, he completed an advanced General Dentistry Residency program at the Veterans Administration Hospital (VA)/University of Texas Dental Branch (UTDB). Dr. Taché attended an 18-month training program for the diagnosis and treatment of Myofascial Pain Dysfunction (MPD). Dr. Taché established a successful practice in Houston, Texas, where he emphasized Temporomandibular Joint Dysfunction (TMD), Myofascial Pain Dysfunction (MPD) and Sleep Apnea (SA). During that time, he maintained his position as an assistant clinical professor, lecturing on TMD/MPD. In 1999, Dr. Taché and his family moved back home to Appleton and became the first board-certified dentist in Dental Sleep Mediine in the state of Wisconsin.
4:00 PM to 4:30 PM
Coffee/Tea Break
4:30 PM to 6:00 PM
Topic: Advanced Craniofacial Sleep Dentistry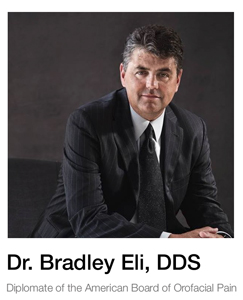 Presenter: Dr. Bradley Eli, DDS
Dr. Bradley Eli, DDS, is a nationally-recognized leader in pain management and the treatment of sleep disordered breathing. He is recognized by colleagues in both medicine and dentistry and works closely with physicians and dentists in the treatment of their patients.
Patients diagnosed and treated by Dr. Eli consistently achieve documented symptom reduction and improved treatment outcomes. Dr. Eli was the first Medicare and Tricare approved provider for multi therapy sleep treatment in Southern California. Dr. Eli earned a post-doctoral Master's degree at UCLA where he received advanced training in orofacial pain and sleep disorders. He remains the only expert with this unique skill set in the San Diego region. Dr. Eli is on the hospital staff at Palomar Medical Center, Tri-City Medical Center, Scripps Memorial Hospital Encinitas, and Scripps Memorial Hospital La Jolla.